"Are you, uh, busy?" Haley stood next to my desk in the radio newsroom, her right hand fidgeting with the hem of the T-shirt pulled over her swollen belly.
I aimed my pencil at the final hour of Monday's format clock. "Just finished my notes for the next Chloe, Queen of the Universe show, and now I'm pondering wonderfully wicked ways to irritate Clementine." I waggled my eyebrows like the characters in one of Haley's beloved silent movies, but she didn't grin. That's when I noticed her other hand was empty. No giant candy cane or chocolate-swirled lollipop. "Hey, what's going on?"
"I was wondering if you could drive me to the doctor."
I reached for her hand. Cold and chalky-white, almost bloodless. "Oh, God, is something wrong with the baby?"
"I'm not sure." Her voice was whisper-thin. "She stopped moving."
"You called the doctor, right?"
"Yeah, she wants to see me. Um…now. And she suggested I bring someone with me."
"Absolutely." With a wave to Frick and Frack who were in the production studio, I grabbed my keys and hurried Haley out of Portable Five. The baby's father or Haley's parents or the girls Haley called best friends should be driving her, not that I minded, because unlike everyone else, I didn't think Haley was invisible.
They don't talk to me anymore. They don't even see me, Haley told me last Saturday after my radio show. I'm invisible.
My heart hammered against my chest. Been there, done that with my own twisted version of Let's-Ostracize-Another-Human-Being-and-See-How-Much-Pain-We-Can-Inflict.
On the way to the doctor, I called my mom who assured me babies slowed down in the womb during the final month. "Things get a little cramped," she said. "There's just no room to dance." I shared Mom's white-coat wisdom with Haley, who didn't seem to hear.
The ob's office was a sea of tranquil blues and sea-foam greens. Water trickled from a fountain made of milky sea glass. None of it soothed Haley who sat on the edge of a waiting room chair, her hands cupped around the bottom of her belly. When the nurse called Haley's name, she struggled upright. "You, um, can come with me if you want."
Doctors' offices usually meant some degree of blood, which meant at some point I'd be flat on the floor, eyes rolled to the back of my head. But Haley wanted—no, needed—someone with her. "Of course."
The nurse weighed Haley, took her temperature and blood pressure, and handed her a little cup. So far, no needles. No blood. This was good. I could handle this. After Haley peed in the cup, a nurse led us into a room where we met the doctor and a machine with a corded wand.
"Let's see what our girl's up to," the doctor said. She squirted clear gel on Haley's bare stomach and ran the wand over the shiny skin. Haley wrapped her fingers around my wrist, holding so tight the skin turned white.
The doctor pushed and prodded in one spot, then another. Haley's nails dug into the soft flesh on the underside of my wrist, forming crescent moon indents. A few seconds into the ultrasound, a swoosh, swoosh, swoosh filled the air.
"That is the sound of the baby's heartbeat," the doctor said. "A very healthy heartbeat."
The sound was wonderfully familiar, the sound you hear when you hold a conch shell to your ear. Grams always called it the heartbeat of the ocean. I called it beautiful.
Haley said nothing as the corners of her mouth curved in a smile, her hand still holding mine.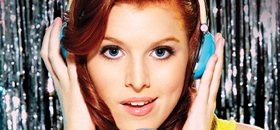 Order Chloe: